Pastel Color Chalk Decor and gift products
|
September 9, 2020
|
Comments Off

on Pastel Color Chalk Decor and gift products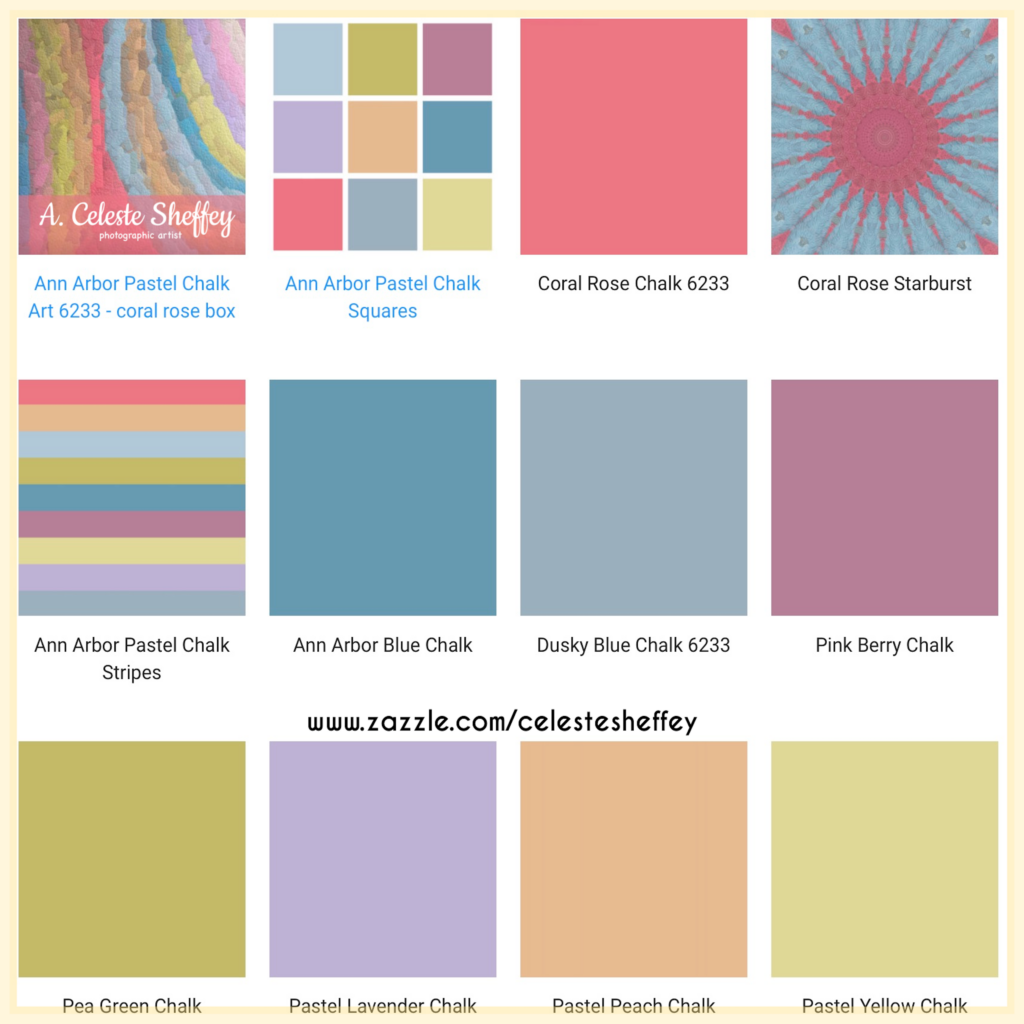 Pastel Color Chalk decor and gifts were the result of my first trip to Michigan. I planned three trips to visit family across the country when my Endocrinologist and I agreed to schedule my long put off thyroid surgery for September 9, 2016.
My cousin Suzanne was thrilled that I was finally coming to see her in Michigan. We agreed June should have the perfect weather and it did! We actually had a heatwave lol. One of our day trips was a lovely scenic drive to Ann Arbor, Michigan.
My cousin was wonderfully accommodating in my wish of strolling around and taking weird photos like the one I took of a colorful outdoor sign board colored with multiple pastel chalk. I modified the image using a few fun iPad art apps.
Four years later, during our COVID19 quarantine, this was one of the art designs I chose to tweak and re-work.
Steps I used for this design – Zazzle shops
One – Using an app to separate out the colors as a solid option
Two – Resize to 7200×7200 pixels
Three – Name each color based on the design I'm working on
Four – Save designs to a new file folder on an external hard drive
Five – Open a new Google table document that includes the images, date created, description and keywords
Six – Create stripes and checker patterns from the solid colors
Seven – Set-up a new album in Zazzle shop to upload the new images for product production
Eight – add the colors and patterns to specific designs
Nine – create a blog post
Patterns with mix and matching solid colors
2016 changed my life in a significant way. I had thyroid cancer surgery that completely flipped my world upside down. I went to the hospital believing I'd be returning to work in three weeks and instead I've been on medical disability ever since. That said, it became important to "work smarter not harder".
Working smarter in this case meant looking back at all of my product pattern designs in a new light, a process that still continues lol.
Featured below are eight solid colors to mix and match with the Ann Arbor Chalk pattern prints.


Poufs, throw pillows, bath mats / floor mats, shower curtains also used as window curtains are just a few home decor items that exactly match each of the pastel pattern prints. I hope my future customers enjoy knowing my desire is making their shopping experience stress free.
When visiting my stores, each product has a Message and Follow button in the About this Design Section. Feel free to reach out with questions or requests.