Dresses I've designed and purchased using my favorite colors
|
October 18, 2019
|
Comments Off

on Dresses I've designed and purchased using my favorite colors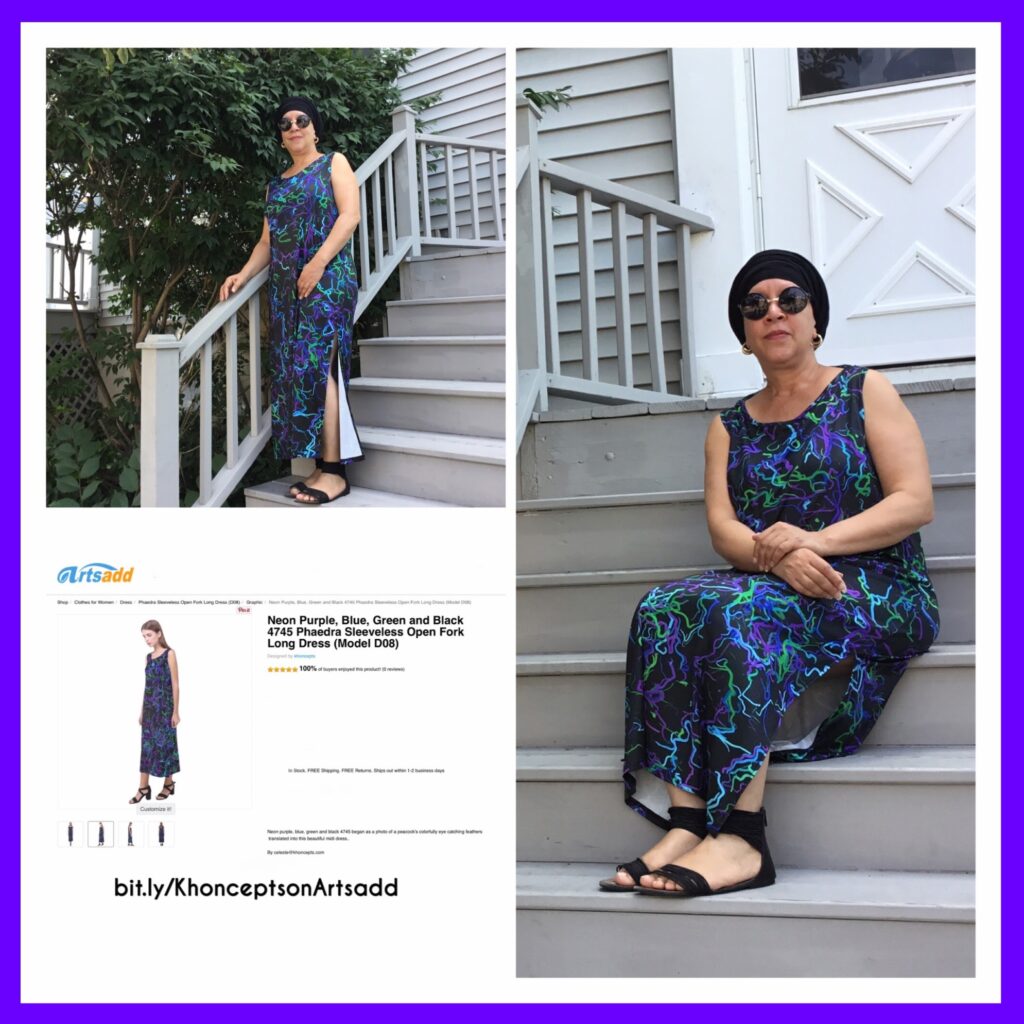 It's fabulous to have found an online store that carries the exact type of dress template I've been sewing for years. Dresses I've designed are easy to order, come in a lot of sizes and are shipped right to my door.
Attending one of my granddaughter's 6th, Unicorn Birthday Party, held at a horse farm in Pembroke, MA was my first time wearing Blue, Yellow and White Paint Splashes, side slit dress.
Notice I wore a pretty dress, without my favorite black accent color, to celebrate being well enough to leave the house. The colors printed perfectly. Weight of the fabric was just, no slip needed. Wearing long dresses is my preference or clients can alter theirs to be a bit shorter.
Why I design my dresses on Artsadd vs shopping
It's enjoyable buying my own graphic printed dress designs. I'm thankful cancer survivor. However, another severe recurring medical issue makes leaving the house tricky, like shopping for clothes. No dressing rooms and they're always the perfect colors. My only "negative" is the items are shipped from China. It may take about 3 weeks to arrive. Artsadd has free shipping or upgrade to expedited shipping. The positives of quality, pricing, the printing on the items I've ordered has been wonderful.
Photos of me wearing my dress designs
Photos of me, wearing my dress purchases shows how they look on a real person, lol! Real life pictures are a great way show potential customers how the dress may look on them.
Carry on bag with dresses I've designed, scarves and sandals
No ironing, no wrinkle dresses, easy to pack dresses
Pictured above are several reasons to love these dresses. Wrinkle proof, folds to easily pack and no ironing needed. Perfect for trips. Pack, unpack and hang. Notice the dress choices in the suitcase match the accessories.
Take a look at your favorite handbag or necklace and let's create a few dresses to match them too. Choose the one(s) you like and buy them. No obligation to purchase, it's a win for customers.