Travel Tuesday – Whale Watching in Mexico
|
June 16, 2020
|
Comments Off

on Travel Tuesday – Whale Watching in Mexico
Whale watching is a wonderful Travel Tuesday memory. I purchased a whale watching tour ticket. We took a tender (small boat) from the cruise ship to the colorful port of Cabo San Lucas, Mexico. The port has lots of shopping, food places, tour boats. I spotted sea lions and pelicans. I'll write tips about about the many things to do in port in another post. You can read about tips of other cruise ports here.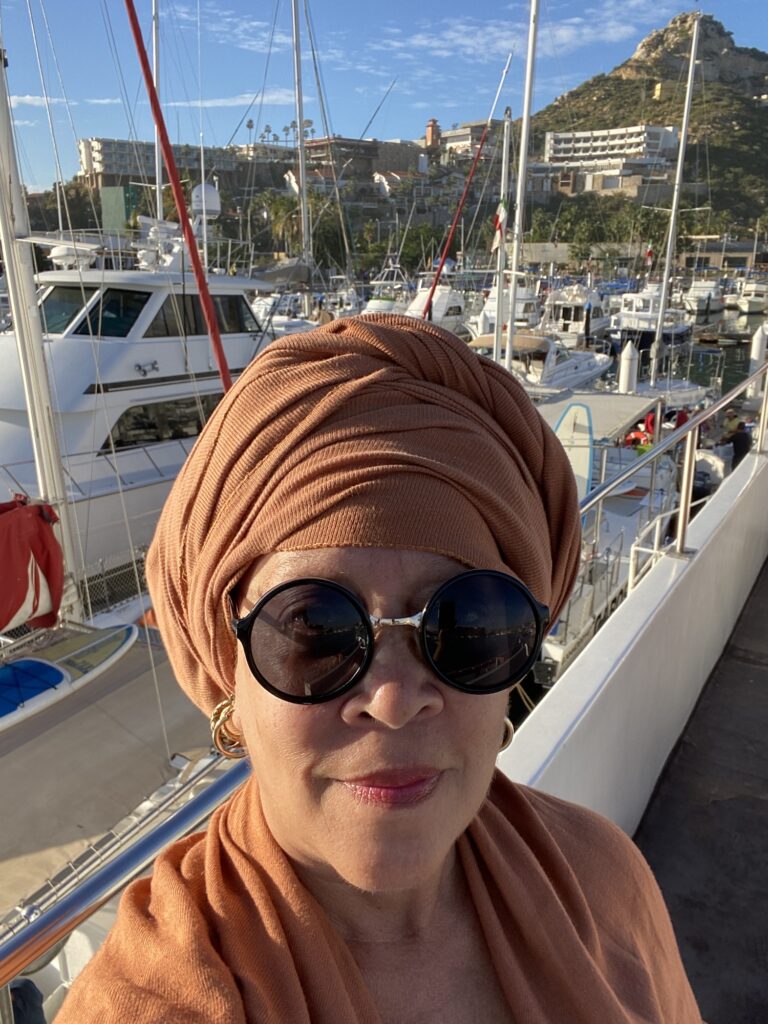 The Tropical Tours operator greeted us at the dock to walk the group of us to his boat. Once onboard we were greeted by the crew with complimentary cocktails and sodas. I made a beeline to a seat in the back corner railing of the boat.
The back corner was the perfect spot. No one could block my view of the ocean, sit or stand next to me. I was a happy camper. 🙂 The tour operators slowly steered the boat in a wide circle. Everyone on all sides could photograph the beautiful beaches and amazing rock formations.
Whale watching in Mexico on a warm sunny day in January was the perfect outing for this New Englander. It was breezy out on the open ocean. Wearing my shawl with matching turban was weather appropriate. I noticed several of the tourists in shorts and sleeveless tops were chilly – oops.
Purchasing a whale watching tour ticket was a bucket list item I never knew I had to fulfill haha. I wanted to clap the first time I saw the humpback whale and her calf swimming and diving. I was too busy videotaping clips using my iPad.
Whale watching tours in the winter may be an activity the family will enjoy and fondly remember.