65th birthday cruise memory – Throwback Thursday
|
January 19, 2021
|
Comments Off

on 65th birthday cruise memory – Throwback Thursday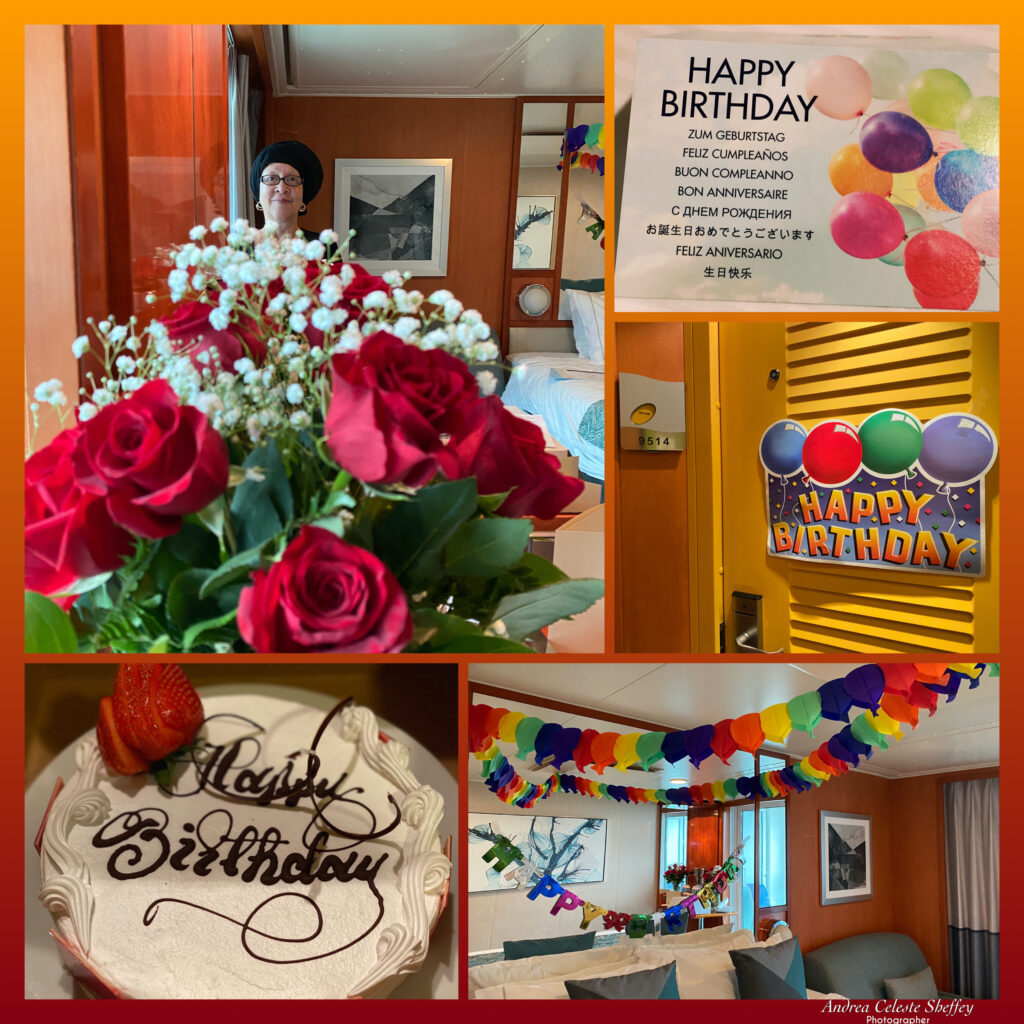 Throwback Thursday featuring my 65th birthday cruise memory that I celebrated on a six weeks cruise from New York to Panama ending in San Francisco. A gift I gave myself.
Imagine my surprise discovering my youngest daughter and our neighbor contacted the cruise line. My cabin had colorful birthday signs, a dozen red roses in a stunning vase and delicious boxed birthday cake. They both made my birthday twice as special. The following morning, I had fun staging the little balcony table with a dining napkin and the vase of red roses for this memorable iPad photo.
The empty vase must've weighed about 5 lbs. To save space, I filled the vase with a variety of items once it was time to repack.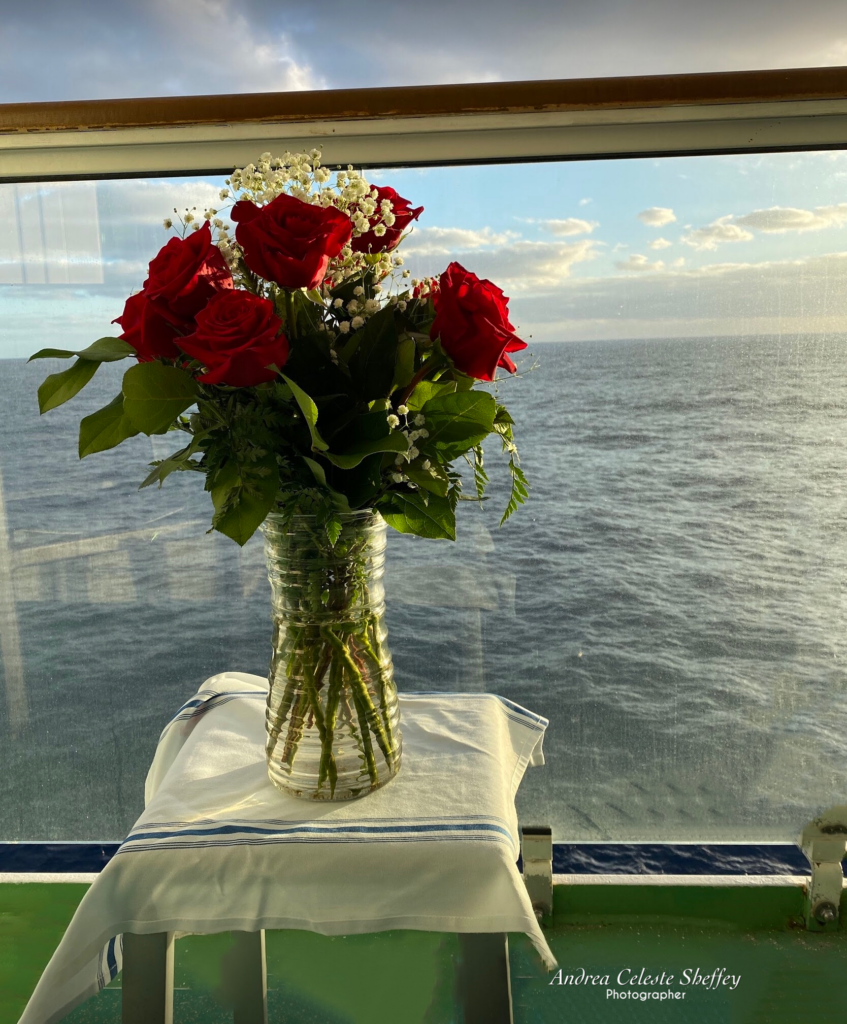 Why I liked cruising to different countries
One of the reasons I chose Norwegian Cruise Line's 20 Day Panama Cruise was the option of taking an Amtrak train directly to New York City rather than flying and airport layovers and transfers. I chose to pay a Red Cap helper to bring my huge piece of luggage down to the train. The advantages being we could load first and the bag weighed a ton. My overnight stay in a Courtyard Marriott was near the Port Authority and within walking distance to several area attractions like Time Square. It was also a short cab ride to the cruise port.
The second reason I enjoy cruising are all of the delicious food choices. I generally ate breakfast in the buffet area, lunch in O'Sheehan's grill and dinner in the Grand Pacific dining room. Every meal was photo worthy. Pictures of several of my meals were accepted as stock photo images in my Picfair portfolio. Experimenting with eating foods I wouldn't normally pay for in a restaurant is a bonus because the food is included in the cruise costs. If you don't like it, simply get something else.
During the 20 day cruise, the buffet staff would set-up signage after lunch letting us know what the International food theme would be that evening. Passengers would then decide if they wanted to eat at the buffet or one of the other onboard dining options.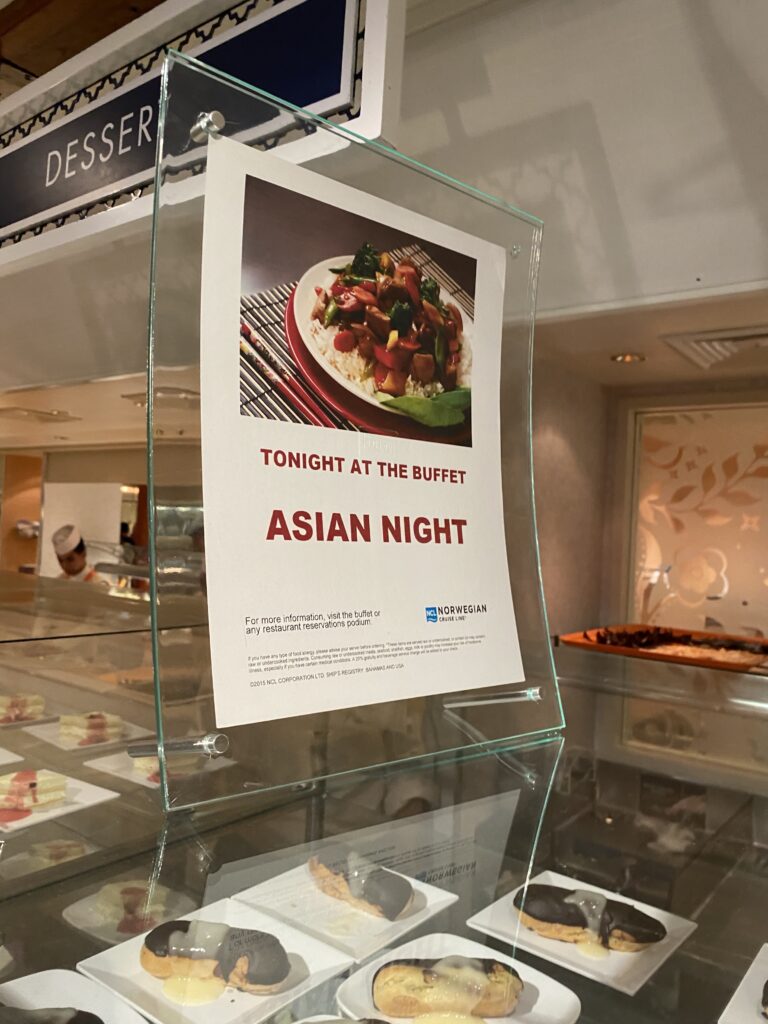 A third reason is experiencing a different country and their cultures for a few hours at each port. I've written several Travel Tuesday blog posts. Traveling with medical issues can be challenging. My blog posts are a recap of how easy, or not, it is to get on and off the ship to tour 11 of the 14 cruise ports.
Caribbean, Central and North America cruise ports
Out of NYC (stayed the night before, walked around the city)
Bonaire
Aruba
Santa Marta, Columbia
Cartagena, Columbia
Panama Canal (cruise through the locks – no one disembarked)
Puntarenas, Costa Rica
Corinto, Nicaragua
Puerto Quetzal, Guatemala
Zihuatanejo, Mexico (walked through, didn't take an official tour)

Puerto Vallarta, Mexico

Cabo San Lucas, Mexico

Los Angeles, CA (Los Angeles, Hollywood Beverly Hills, Santa Monica)

Santa Barbara, CA

San Francisco, CA (walked around town before boarding back to NYC)
The cruise ports highlighted in blue needed passengers to board a smaller tender boat to reach the port dock. Boarding and riding a tender to land gives an added element to your shore excursion experience.
Each country was surprisingly unique, in a good way. I'm glad I was able to book the same cruise ship back to New York. It gave me a second opportunity to re-visit and take different tours.
It was an amazing six week experience. One I hope to do in the future once we get a better handle on a post coronavirus world.
#stayhealthy